High access with this smaller, lighter and faster high torque nutrunner. Unique and patented 360° swivel with transducer.
Highest accessibility: With usability in focus, the Revo HA is designed with a slim gearbox and compact reaction bars with relatively low weight. It's also equipped with a socket release function that releases the socket and reaction bar from the joint after tightening is done.

Process quality: The Revo HA is the first ever swiveling transducerized tool in this segment. It uses traceability, angle control and monitoring to assure perfect joint quality.

Faster tightening process: These high torque models can operate at comparatively high speeds. With multi torque setting buttons and operator feedback on the display the tightening process is shortened.

Safe and ergonomic: Two-handed start trigger makes it safer to operate. With the tool weight balanced out in two hands operator fatigue is reduced. The low vibration and noise level provides a much sounder and comfortable working environment. The controller case enables easy transport between stations and tasks.
Atlas Copco's unique Tensor motors give the Tensor range outstanding spindle speeds and, thus, help you achieve lower cycle times in your operation. Exceptional ergonomics in terms of balance, grip and low weight make the tools a favorite of the operators and increase individual productivity. All Tensor tools are equipped with LED's that will indicate the tightening result, green light for tightening OK and red light for NOK. At Atlas Copco we believe that quality is the road to lowest cost of operation over time. A maintained Tensor tool produces the same performance year after year at minimum and predictable costs while ensuring highest possible uptime.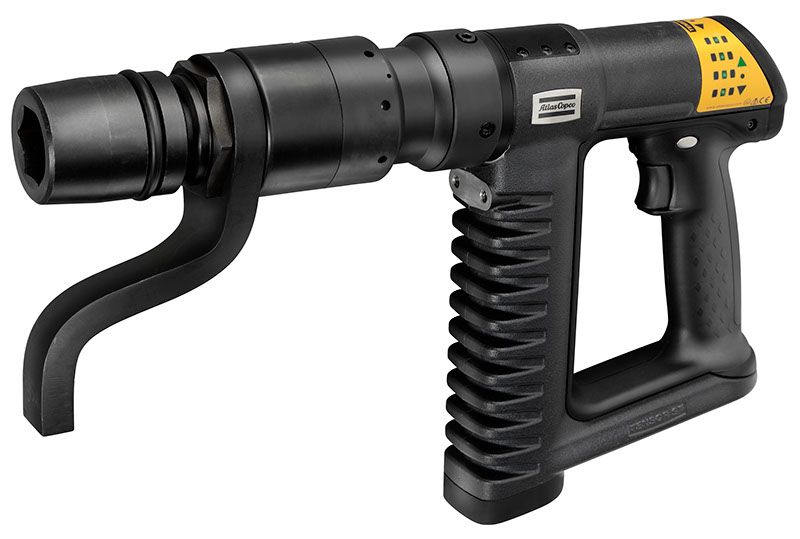 High speed nutrunner reduces tightening cycle times, thus increasing productivity.
Internal bus connection for intelligent accessories, such as a barcode reader and torque selector, reducing time on unnecessary operator movements to read identifiers (e.g.: VIN) or pick up sockets to change program settings.
Due its reduced length compared to a straight tool, it is well-suited for a more compact design on some fixtured applications where space is a limitation.
View or download latest Tensor ST Revo pdf click on catalogue page opposite