Founded in 1955 Gesipa® is a leading manufacturer of fastener installation tools. It has six production sites worldwide and 700 employees. Ray Moss Tools have been proud to be a UK Premier distributor for 20 Years. All Gesipa® products are available from us and most can be bought from this website via the shop.
Gesipa® invented battery powered blind riveting technology and the Bird Pro series is the latest version of this technology.The series features Li-ion 2.1Ah slide on batteries with visual charge indicators.New charging technology.Light-emitting diodes fitted to front of tools to enable precise alignment to work piece.
Extremely fast cycle times with the new brushless motor technology. The series comprises of the PowerBird® Pro Gold Edition, PowerBird® Pro, AccuBird® Pro, FireBird® Pro and the FireBird® Pro Gold Edition.
The AccuBird® Pro has the latest technology of the Bird Pro series and sets blind rivets from 2,4 mm aluminium up to 5 mm in all materials and up to 6 mm in aluminium.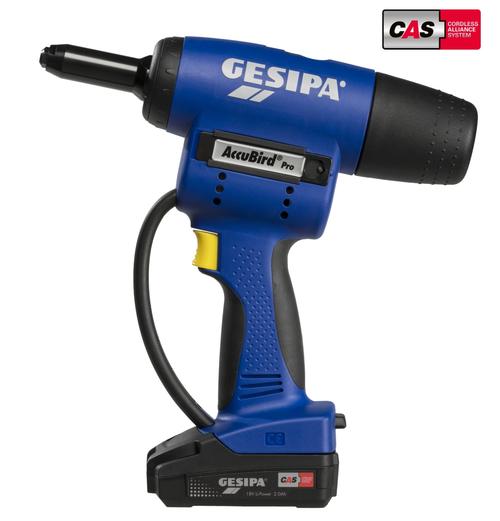 The PowerBird Pro sets blind rivets up to 6.4 mm in all materials and structural rivets. The PowerBird® Pro has a setting force of 15,000 N and the PowerBird® Pro Gold 20.000N.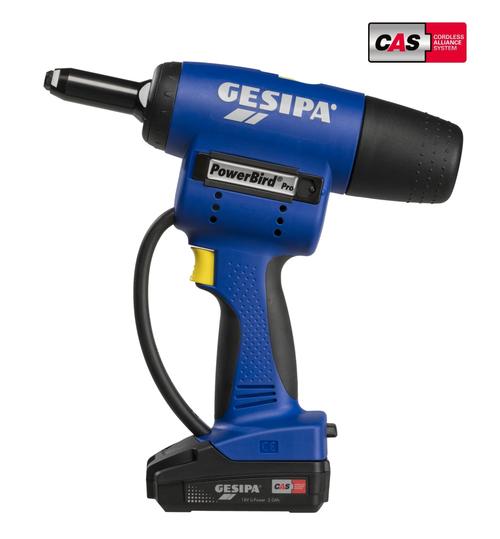 The FireBird® Pro has many new features. 
Mandrel quick-change system

Almost double the pulling displacement of the standard FireBird® 10 mm against 5.5 mm.

Double the setting speed

FireBird® Pro Gold has setting force of 20 KN

Fully automated screw-off procedure

Split LED input field

LED switches to energy-saving mode after 15 seconds

Presetting in steps of 10 and fine adjustment with 99 individual settings.

10 freely selectable program memories.
The trigger features automatic screw-on after pressing the switch
The PowerBird® Pro sets blind rivet nuts up to M10 Aluminium M8 Steel and M6 stainless steel. It has a traction power of 15,000 N.
The PowerBird® Pro Gold sets blind rivet nuts up to M12 Steel and M10 Stainless Steel.
It has a traction force of 20,000 N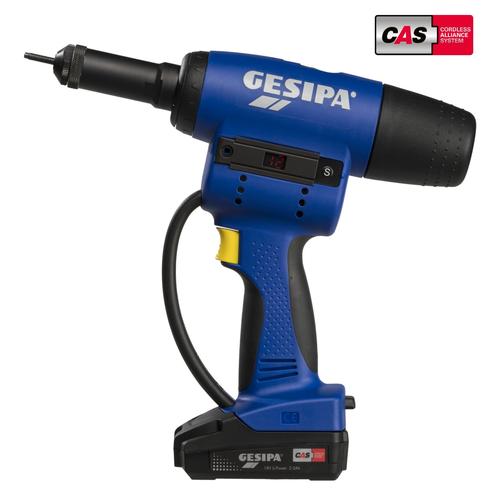 The AccuBird® was developed by Gesipa® in 1992 and was the first cordless battery riveter. After over 25 years in service it is still manufactured in Germany and the first choice of many customers. It is robust and practical.Here are some of the reasons it is still so popular.
High performance 10,000 N setting force

Pulls blind rivets up to 5mm diameter in all materials.6mm Aluminium and BULB-TITE® rivets up to 6.3mm diameter Aluminium and Steel.

Large 20mm stroke.

Electronic control no mechanical switching components.

High speed of operation due to auto-reverse function resetting the jaw mechanism immediately after mandrel break-off.
 The AccuBird® comes complete with either 1 or 2 1.3Ah batteries in a lightweight and stable plastic case.
The higher capacity 2.6Ah batteries can be supplied as an option.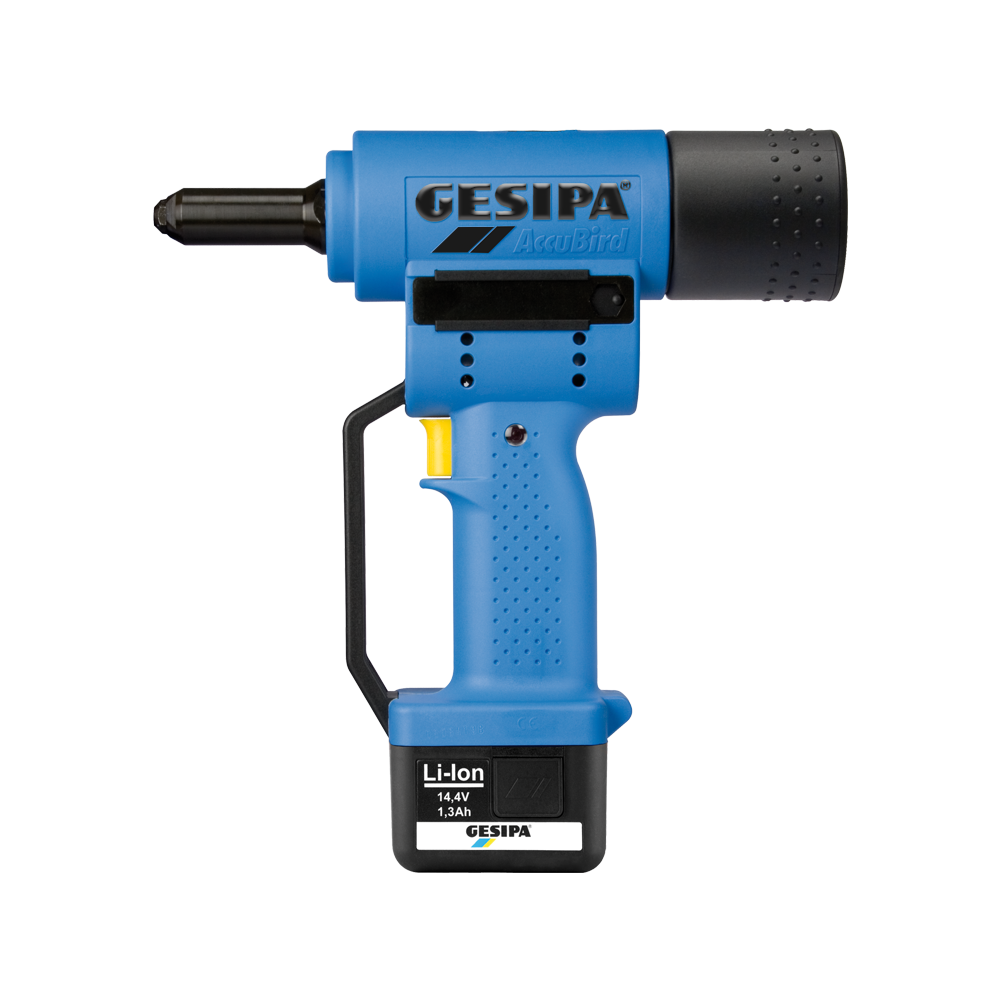 The Taurus® series Pneumatic-hydraulic blind rivet setting tools come with a number of advantages over their rivals.
Widest possible parts commonality
High setting forces combined with low weight.
Fast work cycle.
Optimised.
Forcibly actuated jaws (No spring)
Very long service life.
Low air consumption due to dual function to set rivets and extract mandrels with the same air.
Air suction needed only for vertical downwards riveting can be switched off if not needed.
Low vibration and soundproofed.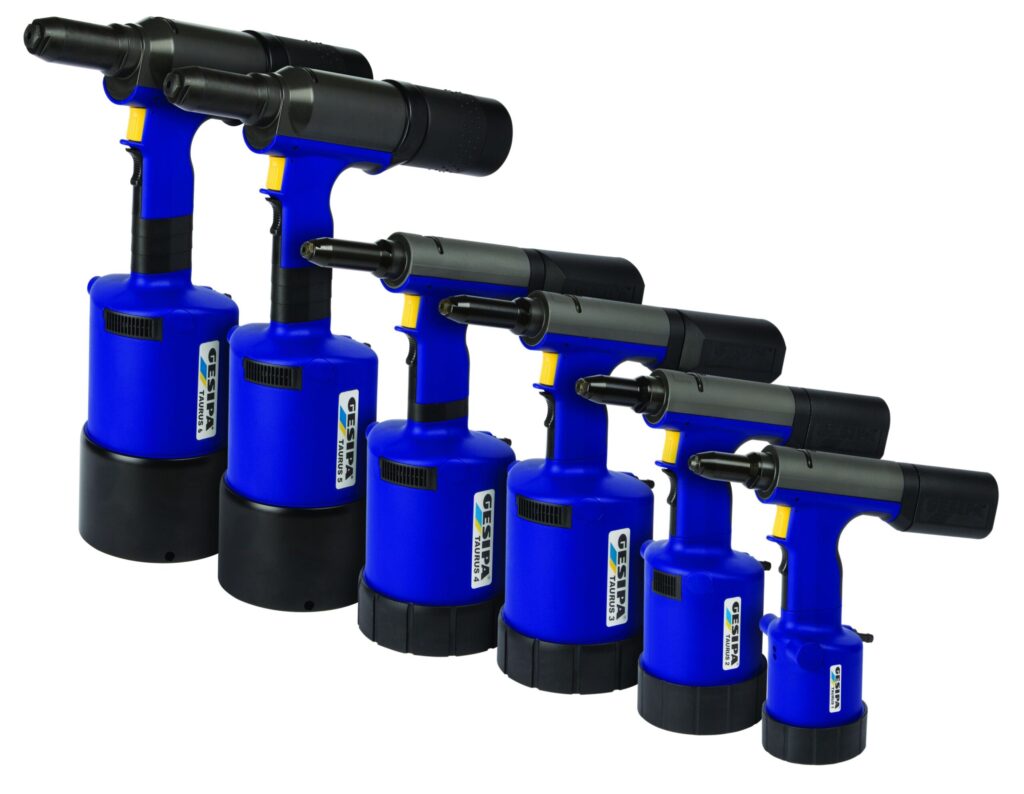 Sets blind rivets 2.4mm to 3.2mm all materials and up to 4mm alu/steel.
15mm stroke 5,500 N at 6 bar.
Sets blind rivets up to 5mm all materials and up to 6mm alu/steel.
18mm stroke 11.000 N at 6 bar
Sets blind rivets up to 6.4mm all materials.
25mm stroke 18,000 N at 6 bar
Sets blind rivets up to 6.4 mm all materials.
19mm stroke 23,000 N at 6 bar.
The hydropneumatic blind rivet nut setting tool which can be optionally controlled via the stroke or setting force.The latter protects the material to be joined as well as the thread and ensures secure anchoring of the blind rivet nut while providing a high degree of process reliability.
Working range of M3 to M10 in all materials as well as M12 in aluminum and steel.
Fast and precise setting force adjustment with colour coded setting ring.

New stroke scale quick and easy to set even under poor light conditions.

Maximum stroke clearly identified by blue ring on stroke scale.
Adjustable stroke 10mm max
Adjustable traction force 22,000 N max
Comes complete with M4 ,M5 ,M6 (in working position) and M8 mandrels and nosepieces.